Is A Freeplay Pool Table Right For You?
A Freeplay pool table is the standard table which you are likely to find in homes or businesses. They are free to play so you don't have to put any money in. Slightly different to the Coin-Operated tables as all of the balls come out of one end of the table. Our Freeplay pool table comes in five different styles. Elite, Emarites, Monarch, Monarch Fusion and the Omega.
The Elite Freeplay Pool Table
The Elite is a slate bed pool table and available in 5 colours, Oak, Walnut, Dark Walnut, White and Black, so you get a lot of choice. Is a great addition to any home games room and benefits from an extremely sturdy design and sleek look. This pool table creates a perfect centrepiece for any home. It has been fitted with steel polished chrome corners as you can see on the picture below and quick drop pockets. The Elite comes with life long pocket liners and is also fitted with a quick release top frame for easy installation. This table is suitable for domestic or commercial locations.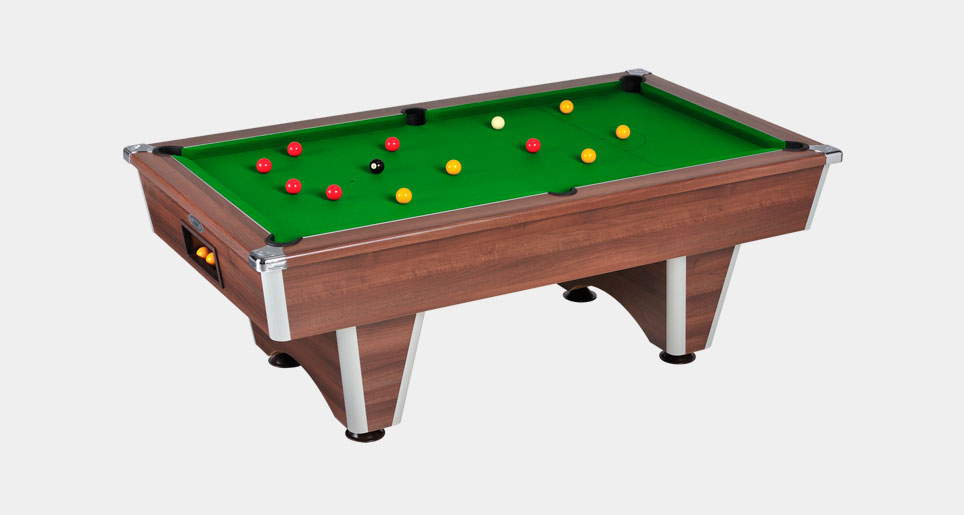 The Emarites Freeplay Table
Our Emirates is a classic British slate bed pool table. It is the ultimate in luxury, design and accuracy. The table has been constructed with only the finest raw materials and manufactured using the latest technology. A more modern and stylish looking table for newer homes and perfect if you want it to match your furnishing as it comes in 5 colour. The Emirates is unique for a Freeplay pool table in that it is also fitted with a cue ball separator which you would normally only find on a coin-operated pool table so the cue ball return to the "D" end when potted.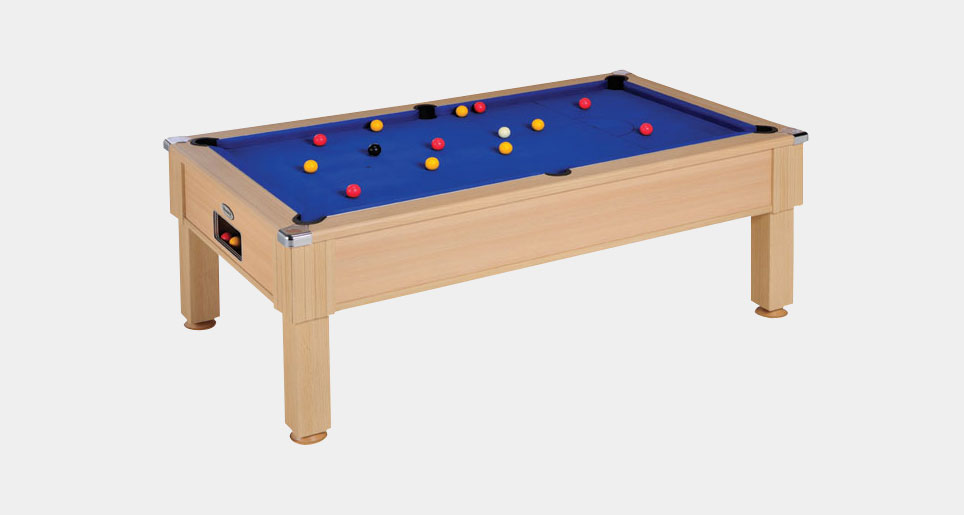 The Monarch Freeplay Table
The Monarch Freeplay Pool Table is very similar to the Emirates but you will receive wood turned legs instead of the standard straight. Also fitted with a cue ball separator so the cue ball will come out of the "D" end. Perfect option for someone who is looking for a more traditional looking table. The legs really finish the look and make it stand out. Another classic British slate bed which is a great addition to any home.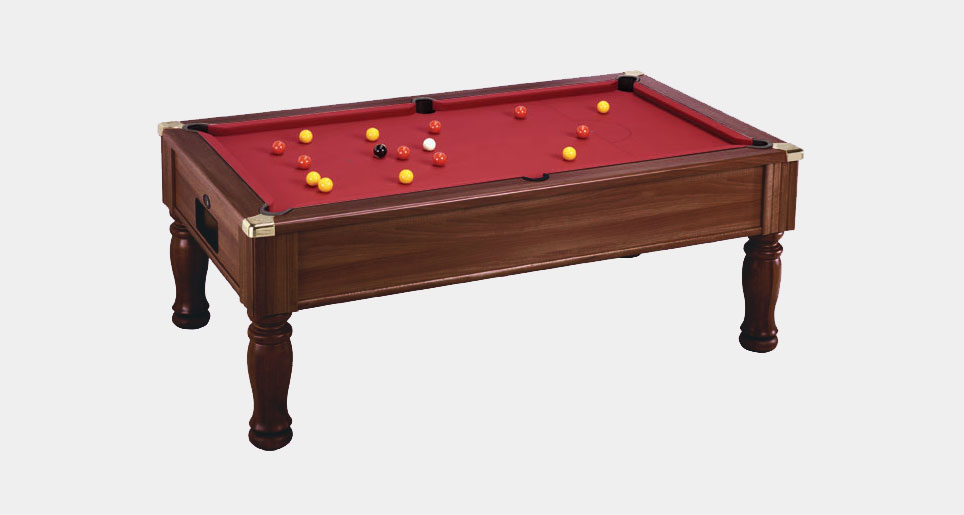 The Monarch Fusion Freeplay Table
The ultra-modern Monarch Fusion features unique metal oval legs for a sleek finish. Finished with a slate support system to ensure a true playfield, this table is the ultimate in home luxury. Covered in only the finest Strachan English cloth just like all of our Freeplay tables. Just like the Monarch, this table features the cue ball separator that runs the cue ball and coloured balls down to opposite ends of the table when potted.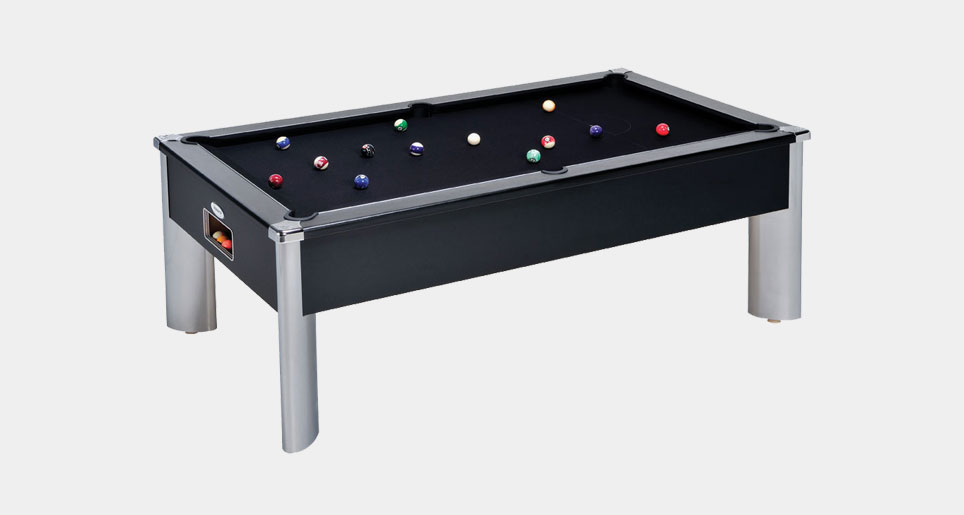 The Omega Freeplay Table
The Omega Freeplay is the cheapest table in our range. Available in an extensive variety of colours and cloth options. It comes with adjustable feet so you can level it on any surface and it is assembled to exacting specifications by our skilled craftsmen. The Omega Freeplay Pool Table offers a modern design and exceptional player appeal.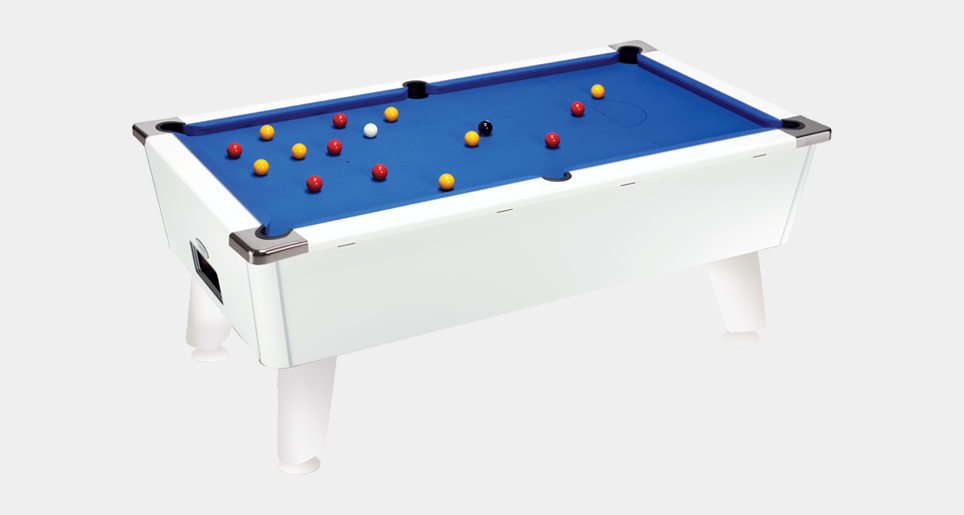 Here at DPT Snooker, we have the largest range of finishes and colours available. We also have a model to fit any location. If a Freeplay table isn't what you are looking for then take a look here. This will explain all of the other types of tables that we offer and what makes each one unique. If you have found what you are looking for, then click here and find out more about our Freeplay tables.