Our first tournament with the IPA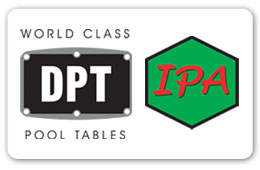 We are looking forward to our first tournament with the IPA which is being held this week. It will be on between March 16th and March 18th. It is the IPA's British Open & British Amateur Championships which is in Blackpool. This will be our first tournament teaming up with the IPA. We will be providing all of the tables for the players to use.
This will not only be great for promotional reasons but we will also be able to interact with some of the top guys in the sport. Hopefully, we will be able to find out what they think about the tables. And we can use that feedback to make any changes where we see fit.
This will be just the start of many more outings with the IPA this year. There is a particular date in the calendar to watch out for. That being the Professional 8 Ball Pool Masters Tournament covered by Sky later on this month (March 23rd – 25th)… great coverage for both us the IPA.
For more information please click here to read the full article on the IPA's website.
If you would like to see why the IPA has picked us then why not have a look at our Pool table range here for yourself. And if you are not sure about what Pool table is right for you then have a look at our blog. It breaks everything down for you and helps you pick the perfect table.