Pool Table Photoshoot For Our New DPT Table
To mark the launch of our newest release we decided to have a Pool table photoshoot. We photographed our new table which is set to be released next month. And some of the tables in our current range. This was because some of our models have had design changes or small improvements made to them. And wanted let our customers see the improvements so we can show off our products in the best possible way.
This photo shoot has allowed us to give you the clearest possible idea of what your new table will look like. Saving you the long journey of coming down to our show room for yourself. And it also gives you the best shopping experience. You can now see every colour option with the matching cloth when browsing our website.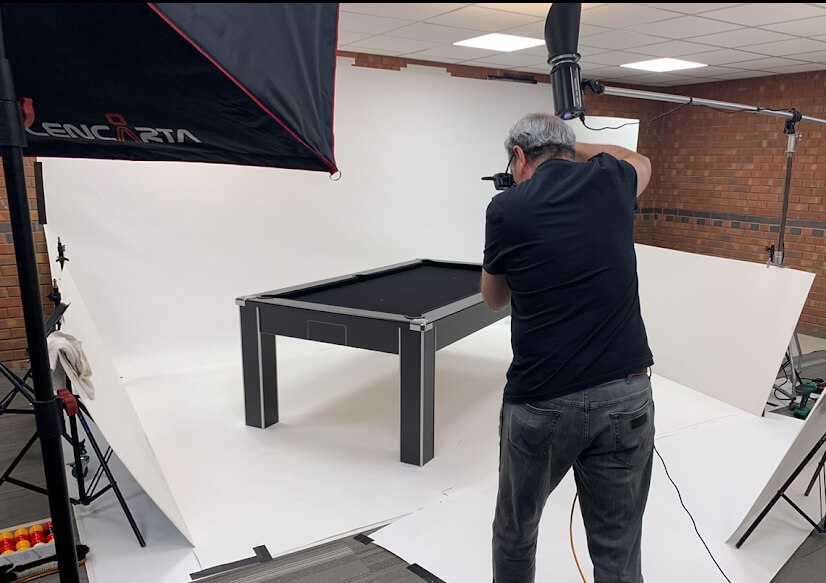 We teamed up with photographer Robert Baxter for our Pool table photoshoot. Robert has over 20 years experience in the industry. And I'm sure you'll agree that we picked the right man for the job when you see the new photos on our website. We now have images of all our newer Pool tables and some updated older models as well. You will be able to view all of our colour options as well as the different types of cloth.
We loved shooting the pictures for our new slate bed Pool table and all our new additional features well. The photos will be live on our website soon and hopefully you can give us some feedback on them.
We chose to reshoot some of our current 7th and 6ft Pool tables because we have made a few improvements to a handful of our classic tables, such as the Majestic and Fusion tables. Some of these changes were only minor to improve your overall play experience. We do however have a few big additions to our range, including a new feature on our Pool Dining Tables that we're sure you'll love.
The biggest change that we have made is adding our new hidden ball return. This feature will be added to all our Pool Dining tables so that your table will look more at home in your dining room than ever before. The ball return will be hidden by a push lock door. You will simply push the door in and it will release and open downwards. You will be able to retrieve your balls easily at the end of a game with just one push.
This new design features will be included on all our Pool Dining tables. Includes the Majestic, Fusion, Avant Garde and our newest table soon to be released.
We also have the exciting news that you can now pick from 2 new colours, Grey Oak and Midnight Blue. These options will be available on both our Avant Garde table and our new table as well.
We took pictures of our new table and all our tables which have new features, in every available colour. As well as with each cloth colour option so you can find the perfect table just for you. 
If you would like to find out about the different type of Pool tables that we sell the click here to view our buying guide.