Snooker on the silver screen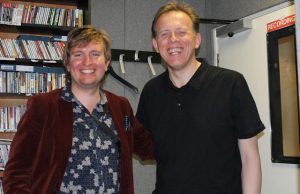 (Picture Above: Filmmaker; Oliver Crocker & Neil Foulds)
We can't think of too many films that focus on Snooker as the main theme, so it will be interesting to see how this one is received.
Tony Osoba, who played Jock McLaren in the BBC classic sitcom Porridge, will be the leading man in Extended Rest, a film about retired Snooker player looking to make a comeback.
To prepare for the role, Osaba, received some expert training from Geoff Foulds, father of former world number 3, Neil Foulds.
This film is also set to feature Frank Williams and Ronnie Grange from Dads Army, Ian Cullen of Z Cars, John Challis of Only Fools and Horses, Katy Manning of Doctor Who and Frazer Hines of Emmerdale.
From what we've read, this sounds like an interesting film and you can keep up to date with updates and release information via it's Facebook Page here; www.facebook.com/ExtendedRest.