DPT Pool Dining Table Range
Duel Purpose Pool Dining Tables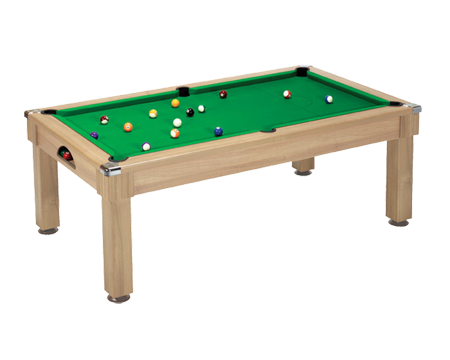 Have you always wanted a pool table, but never thought you had the space, or a room to dedicate for a pool table? Why not take a look at a DPT pool dining table.
If you have a dining room or breakfast / kitchen area with a minimum space of 14ft x 11ft – we have the perfect dining table for you.
A table which is also a professional slate bed pool dining table.
DPT have a range of Pool dining tables with seven models to choose from, all supplied with matching and easy removable dining tops – there is a table perfect pool dining table for every location. Prices range from £750 to £2000.
All pool dining tables are fitted with Strachan Cloth (as standard) – regarded as the best cloth in the world. Tables are supplied with 2 cues, set of Red and Yellow 2″ pool balls, a triangle and a box of chalk.
All DPT pool dining tables are manufactured to the same standards as our coin-operated models, using full size cushion rubber, 3/4 inch slate beds and true play internal slate support system. Every DPT pool dining table is also fitted with a ball return system, that returns the balls to the end of the table once they have been potted. This is a very popular feature and quite unique with such a slimline table.
The duel purpose pool dining table range offers the same playability as a professional coin operated table with the benefit of having the dining option for the ultimate game of pool. We offer the following range of wood finishes; Oak, Walnut, Dark Walnut, White and Black. The following cloth options are available as standard; English Green, Royal Blue, Cherry Red, Black, Silver and Purple. All wood finishes can be matched with any of the cloth colours.
All DPT pool tables are manufactured in their factory in Liverpool, England.
DPT have been manufacturing pool tables for over 40 years. The company was originally established in 1974 by John Underwood.
The company is still a family run business and is now run by John's two sons' who carry on the family tradition.