DPT Donate Pool Table to Help for Heroes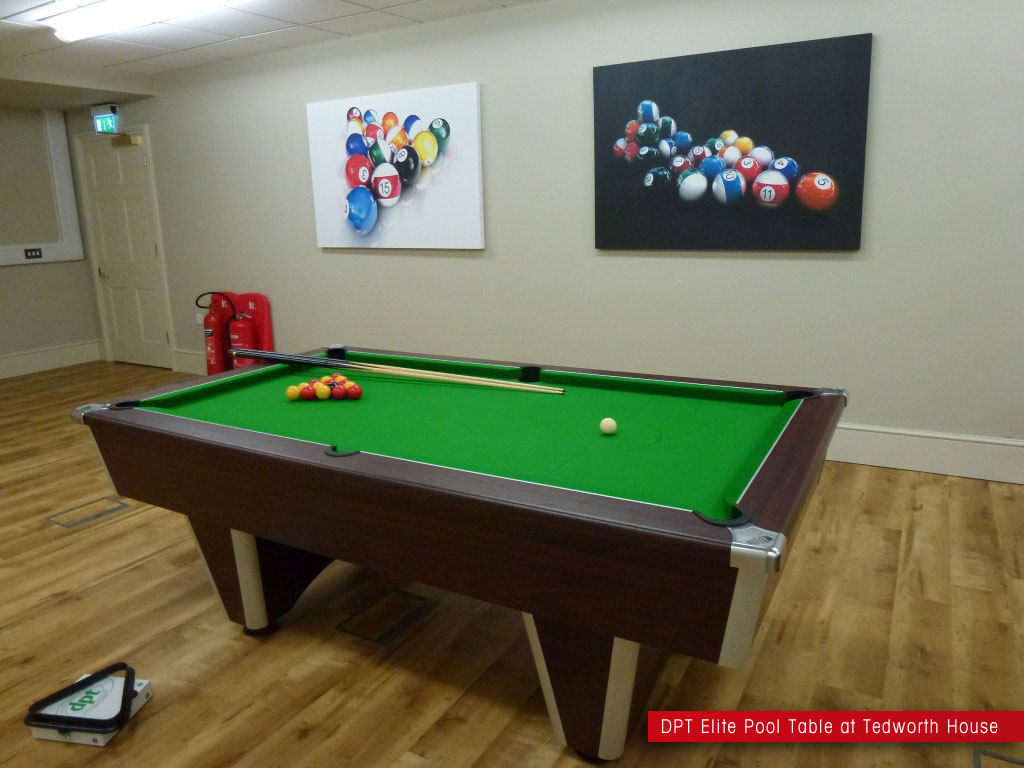 From everyone here at DPT, we would like to express our gratitude to
Help for Heroes

and

Tedworth

House after being given the opportunity to give to such an amazing and worthy cause.

After being contacted by Help for Heroes, we were delighted to accept their request for a donation of one of our Elite Freeplay Pool Tables for the newly opened, "Jimi's Wing" at the Tedworth House veterans recovery centre.

Jennifer Packham, Communications Manager at Tedworth House, got in touch with us to tell us a little more about where their new pool table will be installed;

"Can I start by saying another very large thank you for your extremely kind donation of the pool table, it really does look fantastic!"

"The pool table itself is situated in the newly opened 'Jimi's Wing' which has 30 bedrooms (all en-suite wet rooms), including 4 family suites, an art room, an IT suite, classrooms and the games rooms.

It's named in memory of Jimi Heselden OBE. Jimi was Chairman of Hesco Bastion Ltd, the world-leading manufacturer of protective barriers used to protect British and coalition troops around the world. Jimi was a huge supporter of H4H; giving over £3 million to the charity.

Jimi sadly passed away suddenly on the 26th September 2010 and it seemed a fitting tribute to name a wing of Tedworth House after the man they called 'the heroes' hero'."

Once again we would like to say a thank you to everyone at Help for Heroes and Tedworth House for this chance to give in some way to this inspirational cause and place.


A brief background on Tedworth House

Tedworth House is the flagship of the 4 UK wide Help for Heroes Recovery Centres which form the Defence Recovery Capability (DRC).

Tedworth House is an Army Led Recovery Centre delivered and operated by Help For Heroes; with contributions to the operating costs from the Royal British Legion.

Tedworth House aims to inspire the wounded, injured and sick and returning veterans to lead active, independent and fulfilling lives, which will enable them to reach their full potential and to support them and their families for life.

It is a place of opportunities providing education, training, sport and adventure in a relaxed, understanding and caring environment. State of the art facilities and dedicated staff aid the road to recovery.

Tedworth House also houses the Phoenix Centre which was completed in October 2012.

The Phoenix Centre is a state of the art gym complex with some of the UK's most advanced sporting facilities. Inside there is aSkiplex, SwimEx, strength & conditioning room with adaptive equipment, steam room, sauna and sports hall with a sprung floor.

The Skiplex, named in memory of Captain Andy Griffiths who died in the UK from his wounds sustained in Afghanistan 2010 and was a huge snowboarding enthusiast, is an indoor ski simulator with a continually revolving ski slope and adjustable gradient that replicates a real piste.