Cue Tips and Betting Tips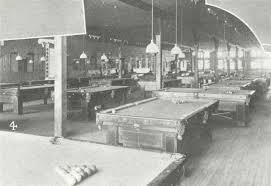 19th Century Pool Rooms
If you were inclined to have a bit of a flutter on the horses back in the 19th Century, you would often find yourself gambling your money away down at your local "Pool Room".
Back in Queen Victoria's day, the Pool Room was the name for a betting parlour, where billiards tables became a common feature to help patrons pass the time between races.
Since then, the relationship between the two has become inextricably linked and the term is now more commonly used, and more logically so, to refer to a place where people rack up and test their skills on the baize.