Bumper Christmas Accessory Pack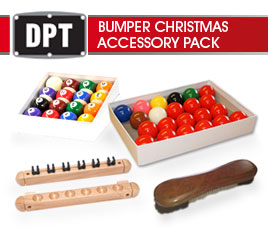 Leading up to Christmas we are offering a free accessory pack worth over £40 with all Pool Table orders!
Every pool table order placed from now until Christmas will receive:
• Set of 2″ Spots & Stripe Balls or 2″ Snooker Balls*
• Oak 2 Piece Cue Rack  • Pool Table Brush
This is in addition to the Free Accessories that already come with your table.
As standard, every DPT Pool Table is supplied with;
• Set of 2″ Red & Yellow Balls
• Set of 2 Pool Cues
• Box of Chalk
• Triangle
* Once you have placed your order, please email glynn@pooltablesuk.com or call us on 0151 523 1451 to specify your choice between the 2″ Spots & Stripes or the 2″ Snooker Balls.